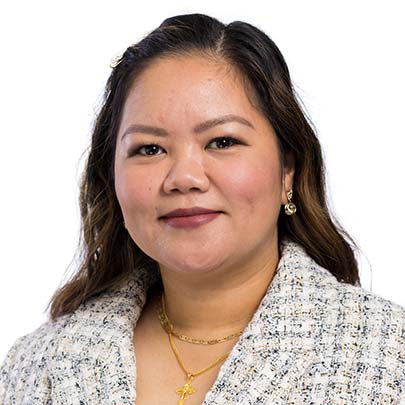 Licensed Immigration Adviser
Email:
[email protected]
Ivy's first experience with Pathways was shortly after her arrival in New Zealand, following a particularly difficult immigration issue. Having experienced first-hand how Pathways can make a positive difference, Ivy herself joined the Pathways team in June 2013.

Initially working as Pathways' Receptionist and Administrator, Ivy's role developed into the position of Executive Assistant in which she supported the Directors in administering their case load and providing essential administrative support. Ivy quickly progressed and successfully graduated with the Graduate Certificate in Immigration Advice in 2014, and she now holds a Full Immigration Adviser License and undertakes a full range of immigration case work.

Ivy graduated from the University of the Philippines in 2004 with a Bachelor of Arts in Mass Communications (Journalism and Broadcasting), before emigrating to New Zealand in 2006. In her early career, Ivy worked as a Customer Service Specialist for the Inland Revenue Department, before returning to studies and graduating from the University of Waikato in 2012 with a Bachelor of Laws. She was admitted as an Enrolled Barrister and Solicitor of the High Court of New Zealand in October 2012.

Ivy is also Pathways' Privacy Officer.